Happy Horses have Happy Riders – We believe in Natural Horsemanship – It is all about the balance, we give our herd plenty space to life a LIVE a Horse deserves. They are together  in a herd  & have 14 hours free rooming in the paddocks corrals. Get grass as much as they like & get to swim in the ocean everyday. For us the HORSE is the symbol for LIBERTY FREEDOM! We teach how we can read their body language & learn  listen to HORSES. They mirror our state of mind & help us to find balance.
Veronika Danzer-La Fortune
Born in Germany. Veronika has worked and cared for horses in her land of birth, in Europe and USA. In 2006 she followed her heart and moved with her Husband to Tobago, sharing her dream of guiding and empowering individuals with the help of these majestic Beings. In 2007 she created with love Being-with-Horses and is also the founder of the Non Profit Organisation "Healing-with-Horses" (2010).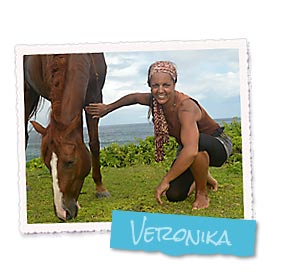 Born in Trinidad, where he grew up with many animals and a large family, this true horseman, is  passionate and caring about the herd and people. He wears many hats at Being and Healing with Horses: Owner of Being & Founder of Healing with Horses, Instructor, Overall Manager, Natural Equine Hoof & Bodycare Specialist, Coach.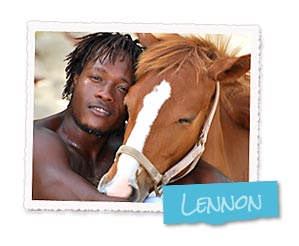 You can read the whole story about Veronika and Lennon in the German Book "In der Ferne scheint das Glück"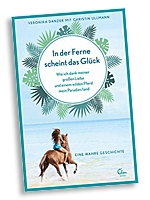 Sarah Vilain is managing the office at Being with Horses. She is there to welcome and register visitors for sessions. In her spare time, Sarah is a writer of fiction. Monday to Saturday mornings, she is at our office ready to answer your questions!